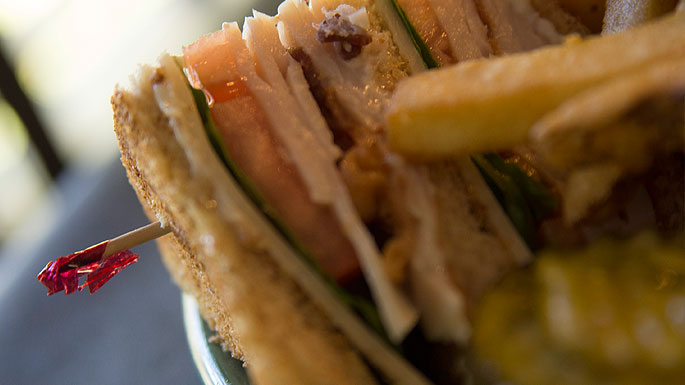 Appetizers
Chicken Quesadillas ~ $6.50
Chicken, onions and cheese in a large flour tortilla.
Fried Mushroom Caps ~ $6.50
A basket of mushroom caps - deep fried and served with ranch dip.
Buffalo Hot Wings ~ $5.75
1/2 Dz Wings with Celery and Blue Cheese Dressing
Fried Okra ~ $4.95
Slices of okra deep fried with ranch dressing
Smothered Potato Skins ~ $4.50
Fried skins are baked with cheddar cheese and bacon, and served with sour cream.
Fried Green Beans ~ $5.75
Crispy, seasoned with onion and served with horseradish sauce.
Chicken Strips ~ $6.95
Tender breast, fried and served with cocktail sauce.
Beer Battered Onion Rings ~ $4.50
Made the "Old Fashioned" Way.
Chips & Salsa ~ $3.95
Home-made tomato salsa.
---
Soups & Salads
Soup and Salad Bar ~ $7.49
Take a stroll around. You'll find two fresh soups, a wide variety of vegetables, fruits and prepared salads. Make it a healthy Meal!
With any Sandwich ~ $4.49
Soup of the Day ~ $3.95
There are always two fresh soups on the salad bar
Myrtie Mae's Ozarks Chili ~ $4.50
Ozark Style, lots of meat, beans and spices.
---
Myrtie Mae's Burgers
Double Burger Platter ~ $8.25
A double burger served with cheese and all the fixin's: lettuce, tomato, onion and pickle.
Hamburger ~ $6.25
1/3 Lb. Of Pure Beef on toasted bun served with all the fixin's.
Original Pattie Melt ~ $6.25
An American classic: Our delicious burger topped with grilled onions and melted American cheese on rye bread.
Bacon Cheese Burger ~ $7.50
Topped with hickory smoked bacon and aged Cheddar Cheese. Served with lettuce, tomato and pickle.
Onion Burger ~ $6.50
Grilled onions and Big-eye swiss cheese top this 1/3 lb. burger. Served with Lettuce, tomato and pickle.
Swiss & Mushroom Burger ~ $7.50
A 1/3-lb Burger topped with sauteed mushrooms and Big-eye swiss cheese. Served with lettuce, tomato and pickle
Garden Burger ~ $6.50
Served on toasted bun with all the fixin's
Supercharge your Burger
Add Cheese: American, Swiss or Jack .50
Add Grilled Onions .25
Add Grilled Mushrooms .50
Add Bacon .75
---
Sandwiches
Reuben, Reuben ~ $6.95
Lean corned beef sliced, grilled on rye with sauerkraut, Swiss cheese and our special dressing
Myrtie Cristo ~ $6.95
Sliced honey-cured ham and Swiss cheese on thick grilled French dipped toast.
BBQ Chicken Breast ~ $6.50
A 4 oz chicken breast marinated in our special sauce, grilled to perfection and served with lettuce and tomato
French Dip ~ $6.55
Thinly sliced hot roast beef served on a deli roll served with a cup of savory au jus.
Add grilled onions and Swiss cheese ~ $6.55
Filet o' Fish Myrtie ~ $6.75
Breaded cod filet served on a deli roll with lettuce, tomato and tartar sauce.
All American BLT ~ $5.25
Country bacon, lettuce, tomato and mayonnaise on toast
Grilled Cheese Sandwich ~ $3.95
Young or old, every kid's favorite sandwich
Grilled Chicken Breast Sandwich ~ $6.25
with mayonnaise, tomato and lettuce
Grilled Ham and Cheese ~ $5.75
Smoked ham and double Swiss cheese on grilled rye bread
Turkey Club ~ $6.95
A triple Decker: Thinly sliced honey-cured turkey breast, Swiss cheese, crisp bacon, mayo with tomato and lettuce served on a hoagie or honey wheat roll
Steak Sandwich ~ $10.95
A Rib-eye steak cooked to order then sliced and served on a whole wheat roll with lettuce, tomato and horseradish sauce on the side
---
Myrtie's Lunch Plates
Country Recipe Chicken ~ $9.95
Myrtie Mae taught the Ozarks how to cook chicken! This is the three piece, fried chicken meal that made Myrtie famous.
For smaller appetites... two pieces ~ $8.95
Special requests are $1.00 extra
Country Fried Steak ~ $9.95
Choice tender beef steak, dredged in seasoned flour and served with country milk gravy
Hot Roast Beef Sandwich ~ $9.95
Served open-faced with whipped potatoes and brown gravy
Fried Catfish Filet ~ $13.95
Boneless Catfish- served with hushpuppies
Grilled Beef Liver ~ $9.95
Smothered with onions
Chicken Fried Chicken ~ $11.50
Tender white chicken breast lightly breaded and grilled
Myrtie's Sweet Treats
Possum Pie ~ $3.50
Myrtie's favorite, and yours too, once you've tried it. A wonderful combination of Pecans, Chocolate, Cream Cheese, and Whipping Cream
Hot Fudge Brownie ~ $3.95
Rich brownie topped with ice cream, whipped topping and cherry
Ice Cream: Vanilla or Chocolate ~ $1.25/scoop
Only you will know how many scoops.. And we never tell!
Chocolae Sundae ~ $3.95
Served with the works
Check with your server for today's fresh baked and cream pies
---
Beverages
Coffee (regular or decaffeinated)
Tea (served hot or cold)
Herbal Tea
Hot Chocolate (no refill)
Cappuccino (no refill)
Milk (no refill)
Soft Drinks (one refill)
Lemonade (one refill)